The Arts Care Here and Now Festival for Older People 2015 will soon draw to a close and I would like to take this opportunity to extend our thanks to everyone who has participated in this year's celebration of the creativity and experiences of Northern Ireland's older people. I'm delighted to call 2015 our best year yet.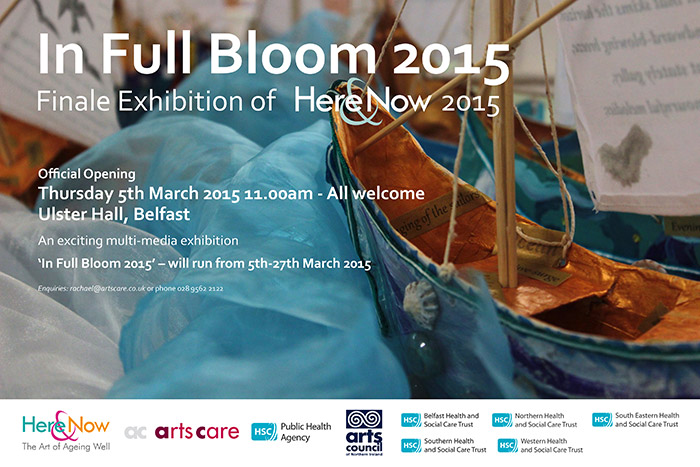 A key part of the festival is the opportunity to showcase the fantastic work produced by our participants in the 'In Full Bloom' exhibition, which this year, will be held in one of Northern Ireland's most prestigious landmark buildings, the Ulster Hall, Belfast. We are delighted to have secured such a wonderful venue and believe it will do justice to the hard work and imagination of our artists and participants. The exhibition will run from 5th to 27th March 2015 this year (please note there may be restricted access to the performance space during the day, depending on the Ulster Hall's programme of events). The launch will be at 11:00am on Thursday 5th March 2015. We would love it if you were able to attend.
Please RSVP to Rachael Kelly at rachael@artscare.co.uk to let us know if you can make it on 5 March. Refreshments will be served.